Two Ways to Monitor Facebook Ads CPM
CPM (Cost Per 1,000 Impressions) has a significant role in the performance of your ads. A dropping CPM can make a borderline campaign profitable while a rising CPM can turn a profitable campaign into a failure.
While CPM is an important factor, it's not something you should try to control. There are simply far too many reasons for the fluctuation of this cost for you to obsess over it.
That said, what happens with global CPMs during the holidays is a popular topic. We expect CPMs to go up as competition increases. While that increase has shown to be far from guaranteed this year, it's an important metric to track.
You'll want to watch CPM because of its impact on your results, even if there is little control over it. Here are a couple of ways that you can monitor your Facebook ads CPM in relationship to your CPA (Cost Per Action)…
Breakdown by Time
One easy way to monitor your CPM is by using the Breakdown feature. You can breakdown by day, week, 2 weeks, or month.
When you do this, you can then get a sense of whether your CPM is increasing over time. If it is, you can then evaluate whether it's leading to an increased CPA.
Here's an example, using Breakdown by Week…
In this case, the average CPA and CPM are represented in the initial Totals row. Here, you can see that CPM has been up slightly over the past two weeks, which may have at least contributed to a slightly elevated CPA.
Charts
Charts is a feature that very few advertisers know about, but it can be helpful in this case. After selecting an ad set, click the "Charts" icon at the far right of Ads Manager.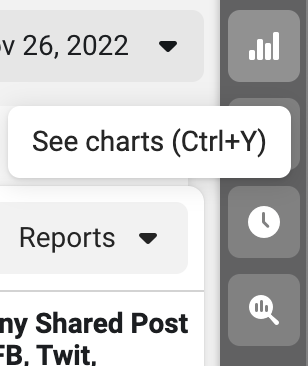 Click "Customize Metrics" at the top right.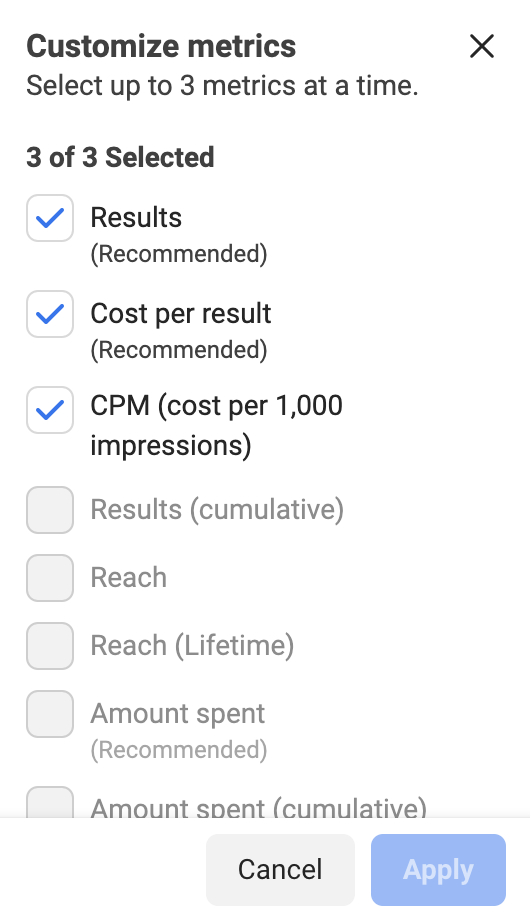 You can only select three metrics at a time, so you'll need to uncheck a metric to include CPM. Once you do, select it to view its chart over time.
As you can see, CPM may be on the higher side when compared to the full six weeks this ad set has run, but you probably wouldn't classify it as a "spike."
You can also then view the CPA to get a sense of whether that's trending up as well.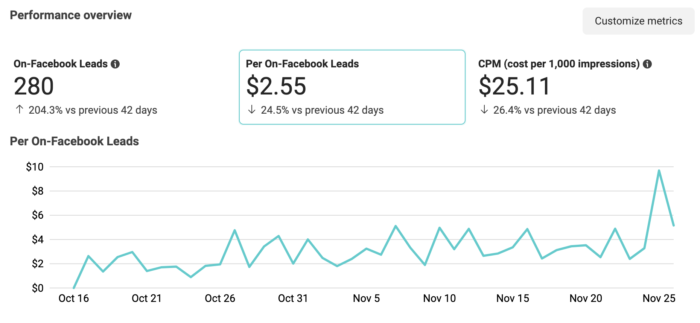 Well, that's certainly a spike! But is it a trend? We'll need more time to be sure.
Watch Video
Here's a quick 60-second video that helps walk through these features…
@jonloomer Two ways to check whether your Facebook ads CPMs are going up over time, leading to bad results. #facebookads ♬ Old School Boom Bap Hip-hop – Friends_House
If you haven't yet followed me on TikTok, make sure that you do (@jonloomer)!

Your Turn
As mentioned at the top, CPM is important because it can have a significant impact on the performance of your ads. That said, do not obsess over what you need to do to get it down. Often there are factors outside of your control (like seasonal competition) that drive up the cost.
How do you monitor your Facebook ads CPM?
Let me know in the comments below!
The post Two Ways to Monitor Facebook Ads CPM appeared first on Jon Loomer Digital.
Did you miss our previous article…
https://www.sydneysocialmediaservices.com/?p=3745
https://www.sydneysocialmediaservices.com/wp-content/uploads/2022/11/monitor-cpm-featured-300x157-1.png
157
300
exposure
https://www.sydneysocialmediaservices.com/wp-content/uploads/2022/07/sydney-social-media-services-white.png
exposure
2022-11-28 15:33:26
2022-11-28 15:33:26
Two Ways to Monitor Facebook Ads CPM