Meta is Bringing Back Breakdowns for Conversion Reporting
What once was old is new again. After more than a year-and-a-half hiatus, Meta is bringing back breakdowns for conversion reporting.
This update follows a recent theme. After removing functionality in response to iOS 14 restrictions in 2021, Meta is beginning to bring them back. The return of breakdowns for conversions follows closely behind the Compare Attribution Settings feature and 28-day click attribution.
In this post, let's clarify what Breakdowns are, what specifically went away, what's back, and why it matters.
What are Breakdowns?
Breakdowns exist in both Ads Manager and Ad Reports, but for the purpose of simplicity let's focus on Ads Manager.
Breakdowns allow you to take a single campaign, ad set, or ad and break down the results by a single segment. There are four categories of breakdowns: Time, Delivery, Action, and Dynamic Creative Element.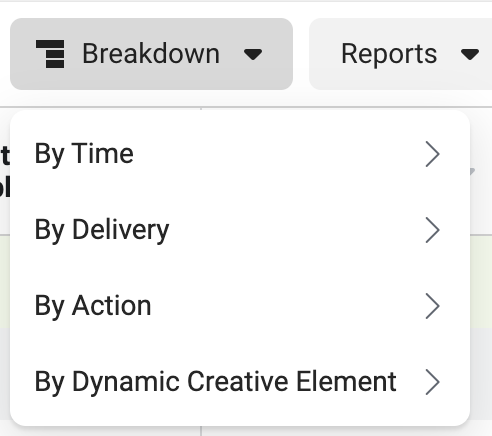 Let's focus on the Delivery category since that's what's most impacted by this latest development. There are several ways you can break down your advertising…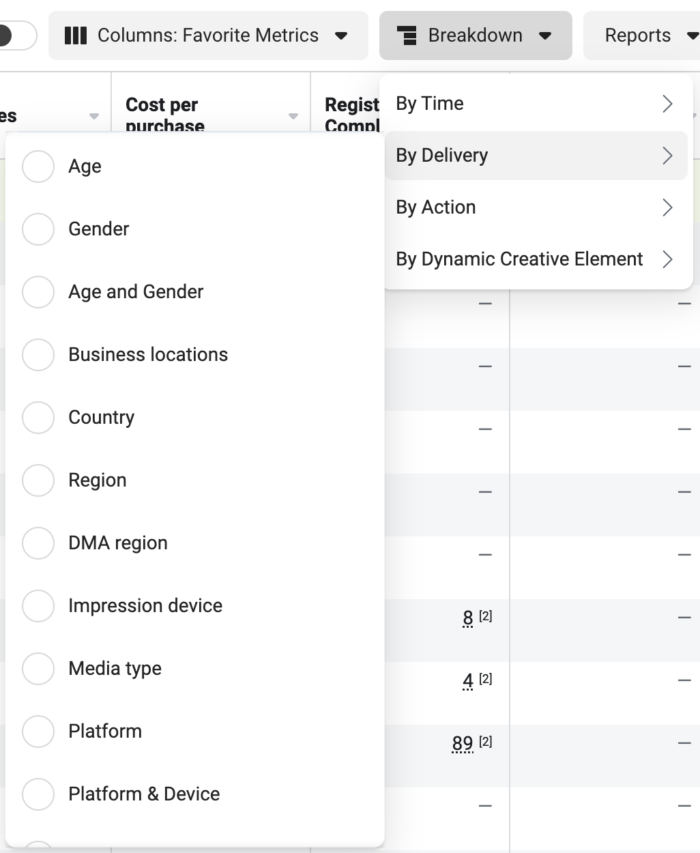 There are a few more options below the scroll that aren't picked up in this image.
Let's say you use the Placement breakdown (admittedly my favorite). When you break down by placement, separate rows will be added to your reporting for each placement that received delivery. This helps advertisers understand, for example, how your advertising performed on Desktop Newsfeed, Facebook Stories, Instagram News Feed, and all the rest.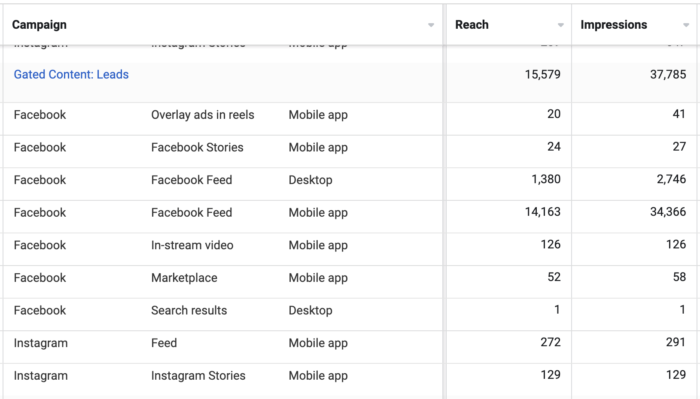 Whether it's placement, country, age, gender, or something else, this can be incredibly enlightening.
What Went Away and Why?
When Apple announced the iOS 14+ changes related to opt-outs, Facebook made several adjustments in response. One of them was removing access to conversion data when running breakdowns.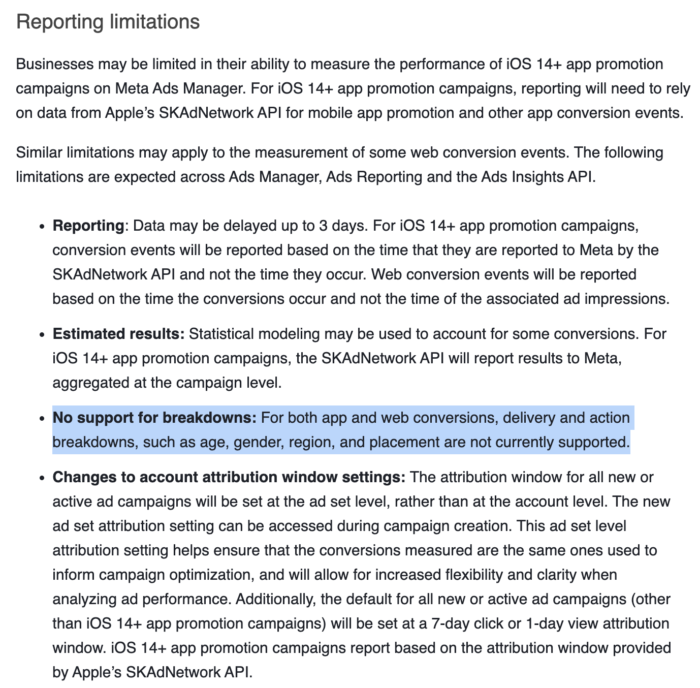 This means that you could still perform a breakdown by placement, for example, but you wouldn't get detailed segmentation for any conversion data. You'd only get it for the on-Facebook activity.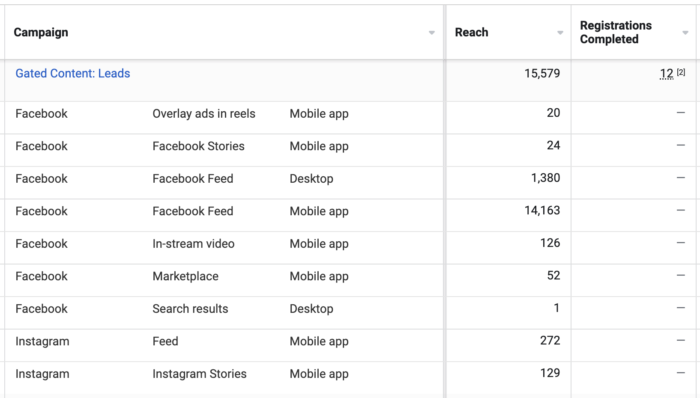 You'd get the summary row, but that's it.
I don't know that Meta has ever been incredibly clear about why this was. We can assume it has something to do with a lack of confidence in the data due to opt-outs. They may know, for example, that a conversion happened, but they are less sure about where.
What is Back?
Breakdowns for conversions are returning for the following (all fall under the "Delivery" category):
Age
Gender
Age and Gender
Country
Impression Device
Platform
Platform and Device
Placement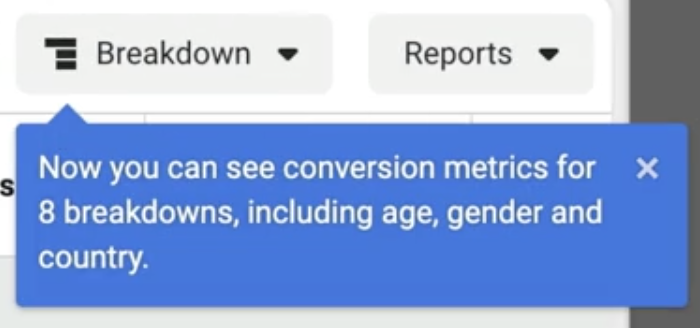 Here's a quick video that walks through it.
@jonloomer Meta's bringing back breakdowns for conversion reporting! #facebookads ♬ Hip Hop Background(814204) – Pavel
This, like every update, is a rollout. I only have it in one ad account, and it's inactive. There's been no official announcement from Meta (as far as I've seen), beyond messages from ad reps to advertisers.
Why Does it Matter?
These extra data points are so important. They provide necessary context.
Without split testing, you can quickly uncover which placements, ages, countries, and impression devices are performing the best. This might impact how you construct your campaigns going forward.
Loss of context has been significant since iOS changes. We are getting so much of that back with the return of Compare Attribution Settings, 28-day click attribution, and now breakdowns for conversions.
Your Turn
Do you have this yet? What do you think?
Let me know in the comments below!
The post Meta is Bringing Back Breakdowns for Conversion Reporting appeared first on Jon Loomer Digital.
Did you miss our previous article…
https://www.sydneysocialmediaservices.com/?p=3310
https://www.sydneysocialmediaservices.com/wp-content/uploads/2022/11/breakdowns-for-conversions-300x157-1.png
157
300
exposure
https://www.sydneysocialmediaservices.com/wp-content/uploads/2022/07/sydney-social-media-services-white.png
exposure
2022-11-04 11:03:31
2022-11-04 11:03:31
Meta is Bringing Back Breakdowns for Conversion Reporting