Meta Brings Back 28-Day Click Attribution
Just in time for the holidays, Meta is bringing back 28-day click attribution.
This is some of the best news advertisers have received in a while. At the moment, though, I haven't seen anything official from Meta on the reasoning behind it, the quality of that reporting, or what it means for the future of optimization and reporting.
So, for now, let's discuss what has happened, how it impacts your advertising, and what it could mean.
The History of 28-Day Click
Prior to iOS 14 changes, Facebook used separate attribution windows (for reporting) and conversion windows (for optimization). One major change was the move to an Attribution Setting (for both optimization and reporting) and the removal of 28-day click.
While advertisers complain of a drop in performance since these changes, I believe the blame has been misplaced on iOS opt-outs. Aggregated Event Measurement should still find many of your prioritized events. The biggest change was the loss of the 28-day click window.
When 28-day click attribution existed, we'd often get questions about whether Facebook ads reporting was inflated. But once it went away, those questions moved to panic about conversions dropping.
And it makes sense. Especially for sales of products that may take longer than seven days to make a buying decision, there's every reason to believe that advertisers have been hurt by these "lost" conversions.
The Return of 28-Day Click
It's been an eventful week or so. Just a few days ago, Meta brought back the Compare Attribution Settings feature. And it's with that feature that we now see the return of 28-day click.
Open the Columns drop-down in Ads Manager and scroll down to "Compare Attribution Settings."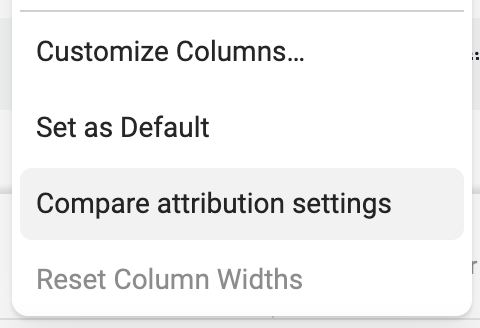 That feature now looks like this…
You can add a column for 28-day click to view how many conversions happened in that window, regardless of your Attribution Setting.

Optimization vs. Reporting
Keep in mind, the addition of 28-day click is only for reporting. The default reporting is still based on your Attribution Setting, which is determined in the ad set. To see the 28-day click conversions, you'll need to use the Compare Attribution Settings feature.
If you're wondering, nothing has changed to Attribution Settings (yet, at least). There isn't an option for 28-day click.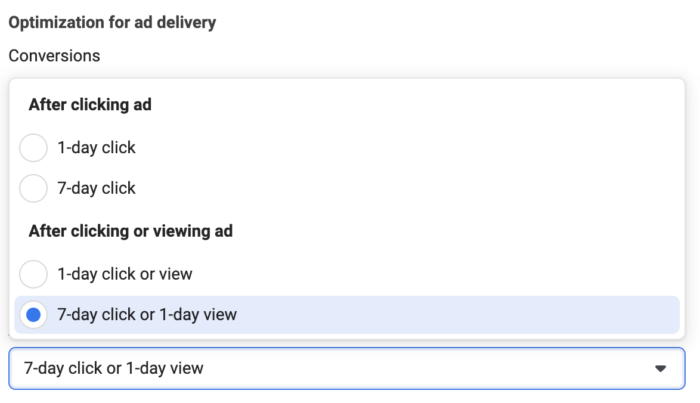 If there were, this would change how your ad set is optimized to include those who converted after 28 days of clicking.
How Can This Be?
Meta got rid of 28-day click for a reason. Presumably, various privacy changes have resulted in a lack of confidence in tracking beyond seven days. So, how could they bring it back now?
Well, there is no official statement from Meta on this, so I only have some assumptions. Keep in mind that originally the Attribution Setting was 7-day click only. Meta pulled way back initially. The company has said that modeling and machine learning have improved reporting.
It's possible, if not likely, that Facebook has always had 28-day click reporting information during the past 18 months or so. And we also shouldn't forget that not everyone is on an iOS device. Even if Meta is unable to attribute 28-day click conversions for users who opt-out on iOS devices (not known), there's a world of potential conversions remaining.
It would seem, though, that privacy restrictions will only get tighter in the future. Meta must feel confident that those restrictions will not hinder 28-day click attribution or they wouldn't have bothered bringing it back.
I would understand any cynicism related to the timing of this release. You may be able to uncover more conversions just in time for your holiday campaigns. This may alter your view of the performance of those efforts.
What You Should Do
This is where advanced advertisers will separate themselves from typical advertisers. Typical advertisers won't even know this exists. Advanced advertisers will use this to uncover more conversions and show clients the relative success of their ads.
Do not be afraid to use this. Understand that the customer journey often takes longer than seven days after a click.
Watch Video
I also recorded this short video about the return of 28-day click. If you aren't following me on TikTok yet, please do!
@jonloomer 28-day click attribution is back for Facebook ads! #facebookads ♬ Zodiac | Seamless Looping Trap Hip Hop Instrumental – xklbeats
Your Turn
Do you have this update? What do you think?
Let me know in the comments below!
The post Meta Brings Back 28-Day Click Attribution appeared first on Jon Loomer Digital.
Did you miss our previous article…
https://www.sydneysocialmediaservices.com/?p=3264
https://www.sydneysocialmediaservices.com/wp-content/uploads/2022/11/28-day-click-300x157-1.png
157
300
exposure
https://www.sydneysocialmediaservices.com/wp-content/uploads/2022/07/sydney-social-media-services-white.png
exposure
2022-11-02 02:37:27
2022-11-02 02:37:27
Meta Brings Back 28-Day Click Attribution