Meta Ads Metric Update: Accounts Center Account
Meta has rolled out an update to ads metrics that you may have spotted in Ads Manager: Accounts Center Account.
It looks like a typo, but it's a thing.
Let's take a closer look at what this is and where you'll see it.
Updating Ad Measurement Terminology
On January 19, Meta announced that they were updating terminology to align with Accounts Center. They would replace "People" with "Accounts Center Accounts."
Wherever you'd see "people" — in a metric name or metric definition — you will now see Accounts Center Account.
No new metrics. The calculation of metrics isn't changing either. The only difference is the name.
Your Accounts Center is where you link accounts that allow you to easily switch between and share across them. You might have an Instagram account linked to your Facebook profile, for example.
In that case, one Accounts Center Account represents both profiles. You'll see where that matters next.
Metric Name Change
You may notice what looks like a new metric called Cost Per 1,000 Accounts Center Accounts Reached.

This is simply Cost Per 1,000 People Reached, but renamed.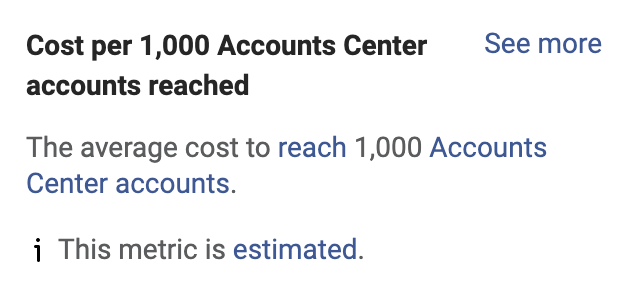 An example is in order. Let's assume that you reach the same person on both Facebook and Instagram. Assuming that those two accounts are linked within the same Accounts Center, that will be 1 Accounts Center Account reached. If those two accounts weren't linked, it would be recorded as 2.
As mentioned, nothing changes but the name. It was already the case that the number of people reached was across profiles, assuming they were linked. This provides clarity for the exception when those accounts are not linked.
Other Metric Updates
You may notice other times when Accounts Center Accounts is used in metric definitions. There are likely more, but here are a couple that I spotted.
REACH is now defined as "the number of Accounts Center accounts that saw your ads at least once."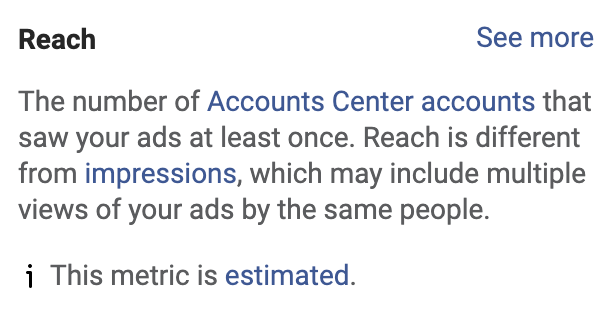 FREQUENCY is "the average number of times each Accounts Center account saw your ad."

Wherever you would have previously seen "People," you will now see "Accounts Center Accounts."
Once again, there's no change in the way these metrics are calculated, so you won't see a change in the results.
Watch Video
I also recorded a quick video on this. Watch it here…
@jonloomer You may be seeing Accounts Center Accounts Reached in your Facebook Ads Manager. This is an update replacing People. #facebookads #facebookadstips ♬ 90's old school hip hop(1004943) – WICSTONE
Your Turn
Had you spotted this change?
Let me know in the comments below!
The post Meta Ads Metric Update: Accounts Center Account appeared first on Jon Loomer Digital.
Did you miss our previous article…
https://www.sydneysocialmediaservices.com/?p=4731
https://www.sydneysocialmediaservices.com/wp-content/uploads/2023/01/accounts-center-accounts-300x157-1.png
157
300
exposure
https://www.sydneysocialmediaservices.com/wp-content/uploads/2022/07/sydney-social-media-services-white.png
exposure
2023-01-24 13:08:06
2023-01-24 13:08:06
Meta Ads Metric Update: Accounts Center Account