Control Which Websites, Pages, Apps, and Videos Your Facebook Ads Appear On
Meta offers the ability to control where your ads appear. Do a little digging to uncover which websites, Facebook pages, apps, and videos are showing your ads. If necessary, you can restrict the category of content or which properties can show them.
First, let me explain. There are several placements your ads might appear on. This includes feeds, stories, Reels, apps, websites, and more.
If your ad appears within the Audience Network placement, where did it appear specifically? Which apps and which websites? If your video was found within another video or Reel, which one?
Once you uncover this information, you can take additional action. Let me show you…
Brand Safety
Within your Ads Manager Tools menu, go to Brand Safety.
Brand Safety offers Controls, Block Lists, Publisher Lists, and Delivery Reports.
Controls
Within Controls, you'll get access to Inventory Filter, Block Lists, Topic Exclusions, and Content Type Exclusions.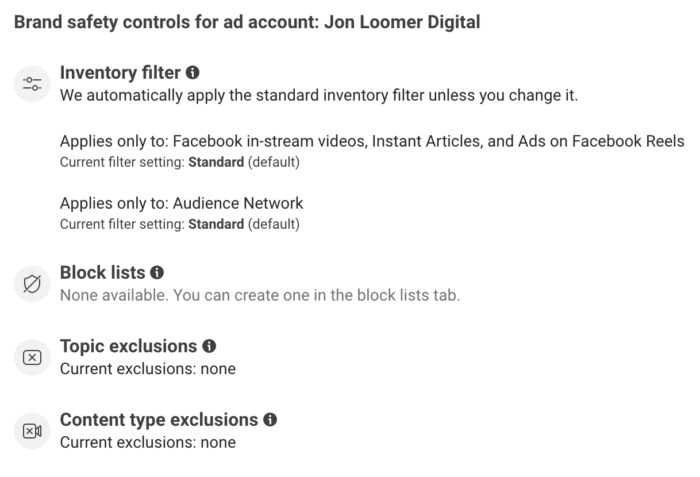 There are separate inventory filters for Audience Network and the remaining placements. You have the option of Full Inventory, Standard Inventory (Default), and Limited Inventory.

"Full" means that your ads can be shown anywhere without restriction. "Limited" means that your ads will be shown on the safest properties. These categories are defined based on discussion of things like tragedy or conflict, debated social issues, objectionable activity, sexual or suggestive, strong language, and explicit content.
Here's an example for Tragedy or Conflict.

You can also apply topic exclusions to prevent your Facebook in-stream video ads from appearing in on-demand videos (not live) about specific topics (Gaming, News, Politics, Religion and Spirituality).

Finally, you can apply a content type exclusion to prevent your ads from appearing on live videos or non-partner publishers.
Publisher Lists
Publisher Lists shows where your ads can appear, separated by placement.
Here's an example for Audience Network.

And here's Instagram Profile Feed.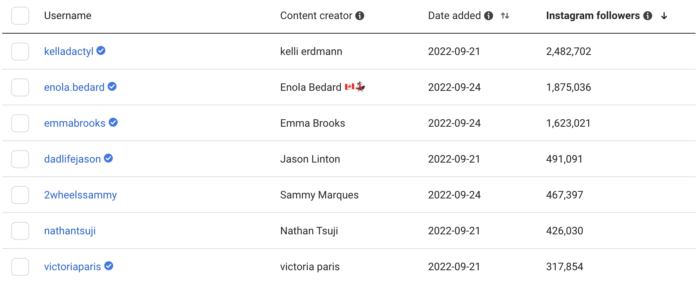 This doesn't mean that your ads do or will appear within these properties. It just means that they can.
Delivery Reports
This is how you view where your ads actually appeared.
First, select the placement that you want to focus on.
You can choose a specific campaign or time period.

Here's an example for In-Stream Video placement. You'll get a list of the pages, content types (live video or non-live video), and impressions.

You may instead see page URLs.

When viewing Audience Network, you'll get a list of properties that will include websites and apps.

What to Do With This?
You don't necessarily need to do anything with this. But you may be very careful about which brands and subject matter you are aligned with.
First, you can download the Delivery Report. Click at the far right to download your report.

You can also choose to prevent your ads from appearing on specific properties by blocking them. To do this, hover over the property that you don't like to add it to your Block List.

To view your Block List, click on the left menu.
Should You Use This?
This is one of those things that I'm not all that worried about. To reach my ideal audience, I'm not concerned about where they are at the time when they see my ad.
At the same time, you may care about this. I imagine this may especially be the case if you are in a sensitive category and do not want your ad to appear on conflicting senstitve content.
If that is the case, your best course of action may be to use the "Limited" inventory filter and topic exclusions. Otherwise, you're playing whack-a-mole by blocking the properties that you see pop up in the publisher lists and delivery reports. These lists will change on a daily basis.
Your Turn
Do you use these controls?
Let me know in the comments below!
The post Control Which Websites, Pages, Apps, and Videos Your Facebook Ads Appear On appeared first on Jon Loomer Digital.
Did you miss our previous article…
https://www.sydneysocialmediaservices.com/?p=4146
https://www.sydneysocialmediaservices.com/wp-content/uploads/2022/12/meta-brand-safety-300x157-1.png
157
300
exposure
https://www.sydneysocialmediaservices.com/wp-content/uploads/2022/07/sydney-social-media-services-white.png
exposure
2022-12-19 13:02:29
2022-12-19 13:02:29
Control Which Websites, Pages, Apps, and Videos Your Facebook Ads Appear On